12.12 BIG Christmas and Boxing Day sale is live from 9 December 2019 till Wednesday 1 January 2020.

Visit our online platform at shopee.sg for more details. https://bit.ly/2Bpm94O

Not only 12.12 BIG Christmas sale discounts that you are getting, but you can purchase gadgets with additional $10 off with new shopee.sg user account. If you are using DBS, Standard Chartered or Citibank credit card, you can stack additional discount

Click here to view list of active bank promotion
New shopee.sg user could get up to $10++ off on top of 12.12 BIG Christmas discount.
Existing shopee.sg user could get up to $10++ off on top of 12.12 BIG Christmas discount

Instructions for new shopee.sg user.
- On mobile device, download Shopee.sg from Playstore or Appstore. enter any of following code
ESTHE442
OWENT222
HEA7E222
BELTY222

- Shop at https://shopee.sg/dericam.com.sg and select the preferred product(s).
- Select for delivery to letterbox via Singpost Smartpac or self collection
Instructions for existing shopee.sg user
- If you have sufficient shopee coins, you may want to use 250 coins to redeems - $8 OFF Mobile, Computer & Games Categories via https://shopee.sg/shopee-coins/?smtt=206.5468 (Min spend of S$50)
Update 13-Dec - https://shopee.sg/m/sellervouchers?smtt=210.20716
Update 14-Dec - https://shopee.sg/m/christmas-sale?smtt=200.20638
- Looking for 12.12 daily voucher here - https://shopee.sg/m/1212-all-vouchers-887?smtt=210.19181
During checkout process, select credit card to make payment, preferably DBS, Standard Chartered.


Download following PDF file for step by step instruction
Purchase with discount.pdf
Sample screenshot for reference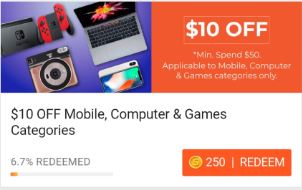 Use 250 coins to redeem $10 off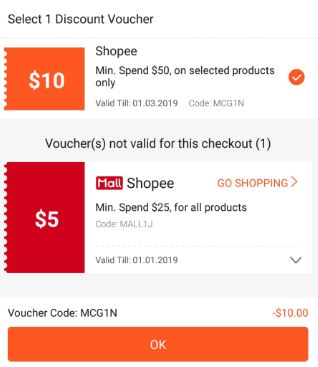 Successfully apply the $S10 off code (MCG1N)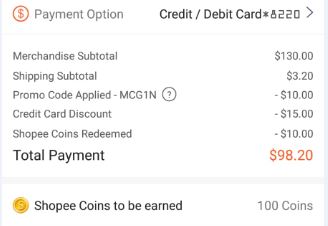 Checkout using Citibank Credit Card (with existing shopee.sg account)
Able to get up to $35 off from total purchase.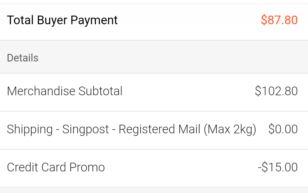 Pocket Trainer on Black Friday Promo $102.80
Purchase with Citibank Promo ($15 off)
Buyer only paying $87.80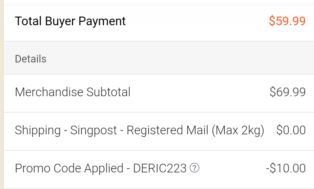 Sample of new shopee.sg purchase